It's a rainy, dreary day here in Maryland, which makes me a little bummed about trick-or-treating tomorrow night… Let's hope it clears, because I did not lovingly sew – on a sewing machine! – two costumes to be covered by raincoats!  But I may day was brightened when I read Megan's post at Heartbeats and Little Feet today!  Thanks for the Liebster Award, Megan!
So here are "the rules"
1. Thank the blogger that nominated you.
2. Answer the questions given by the blogger who nominated you.
3. Nominate 5-11 bloggers with fewer than 200 followers and give them questions to answer.
1.  Gold or silver?  Platinum!  But really, it depends on the outfit.  I have favorite jewelry in both!
2.  What is your favorite candy?  Reese's Peanut Butter Cups and M&Ms
3.  Best book you've read recently.  I have read a few good ones of late.  I think The Book Thief by Markus Zusak should be added to the middle/high school Holocaust fiction reading list, right next to Diary of Anne Frank.  I also just read Beautiful Ruins by Jess Walter and couldn't put it down.  Seriously – I chose reading over gambling in Vegas!

4.  Link and/or photo of a handbag that you are currently coveting.  I am such a dork/mom… I have been really excited by the Fall line of Vera Bradley.  I never thought I'd be excited about carrying around a quilted carpet bag, but… Never say never?  How cute is Olivia PInk!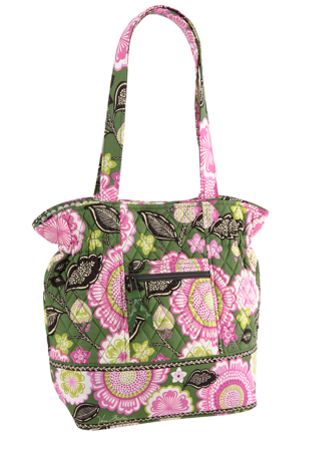 5.  A sentence or two describing a happy memory from your childhood.  Salt spray in my face on a sunny, windy day of sailing on Cape Cod.  With a fudge round chilling against the ice pack in my lunch bag waiting for me back on the beach.

6.  Three favorite online shopping websites.  I do a lot of shopping on Amazon.com – I love the free shipping with Prime!  I also just bought a lamp I am WAY too excited about at Lampsplus.com.  The shipping was free, and speedy, and I LOVE my fish lamp.  It's so tacky whimsical, it's awesome.
7.  Something that you learned recently.  That I can be productive working from home without eating everything in sight!  Proof: it's day three of this new venture, and I haven't opened a single bag of Halloween candy.

8.  Beauty product you can't live without.  Oil of Olay age-defying daily anti-wrinkle cream with SPF 15.  My skin is really dry, and I would be parched without some sort of moisturizer.  I like the Olay cream, as it's light, not oily, and has definitely reduced some signs of aging.  I'm only 31, but why wait for wrinkles to start fighting them??

9.  A pet peeve.  SNORING.
10.  What is your favorite season of the year?  Of the four seasons, I love Fall for the colors and smell and coziness.  Of the holidays, Christmas for the cheer and smell and food and presents and Santa.  But July Fourth for the fireworks!
And… I'm not going to nominate anyone specifically.  I had fun answering Megan's questions on this dreary day.  So if you need some cheer, consider yourself awarded, and feel free to answer the questions I did!